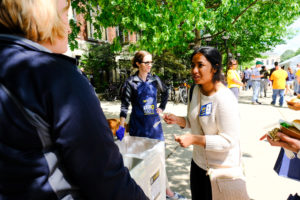 U-M met its goal largely by ​moving toward​ the use ​of ​organic fertilizer rather than synthetic fertilizers. Organic fertilizer comprise an estimated 75 percent of the fertilizer used by Grounds Services, and 20 percent of​ ​the fertilizer​ ​used by Radrick Farms and the U-M Golf Courses. Grounds Services also is piloting a low impact broadleaf weed control on approximately 25 percent of campus, including the Central Campus Diag and Ingalls Mall. In addition, there are campus-wide efforts to expand naturalized areas, such as prairie and woodlots, which require fewer land management chemicals and are better suited to handle stormwater.
The contributions of University of Michigan staff were the focus of the MStaff200 celebration, a zero waste event with exhibits, refreshments, free gifts and live performances. MDining provided local food for historical dishes that served more than 10,000 people at the event. 
Michigan Dining — in collaboration with Central Student Government, Office of Campus Sustainability and MHealthy — hosts several M Farmers Market events in September and October. Additionally, there are weekly M Farmers Market produce stands in selected locations across campus from May through the summer.